ExpressVPN is the best VPN provider. This VPN offers the highest level of security and a large number of servers, spread across 94 countries. Despite its significantly higher costs than its competitors, ExpressVPN is still the no.1 choice for businesses that need a top-quality VPN solution.
Investing in ExpressVPN means you'll get reliable and secure Internet access, good data security, and a variety of extensive customization options.
A VPN is a solution that keeps you anonymous on the internet by changing your ip address. The data is encrypted and transmitted in a virtual private network security tunnel. Because of such integrity and security authentication will give you a series of accompanying effects such as: Unblocking geography (access to blocked or censored websites). Work remotely safely, Buy international goods (air tickets, amazon …) cheaper in countries that enjoy promotions. Resist the monitoring of online monitoring organizations, security when using public wifi, increase safety when trading online. You can see "What is VPN? Pros and cons of VPN" for more detail
Let's take a detailed review of ExpressVPN through the following article:
Specifications
Client software platforms: Windows, Mac, iOS, Android, Linux, BlackBerry, Kindle Fire, Nook, router, Playstation
Supported native platforms: All of the above, along with Chromebooks, Windows Phones, Proxy services (non-VPN) available for game consoles, Roku, Apple TV, Amazon Fire Stick, Boxee
Supported protocols: OpenVPN, L2TP/IPSec, PPTP, SSTP, IKEv2
Number of servers: 3000+
Number of countries: 94
Registered country: British Virgin Islands
Payment options: Credit card, PayPal, Bitcoin, AliPay, GiroPay, WebMoney
Is a real name necessary? not
Encryption Protocol: AES-256
Data usage: Unlimited
Bandwidth usage: Unlimited
Maximum number of devices connected simultaneously: 5
Customer support: 24/7 chat and email
Privacy Policy: No logs
Website: www.expressvpn.com
Plans and prices

Honestly, ExpressVPN is one of the most expensive VPN out there. Many plans are available, with the cheapest plan being a yearly subscription, which costs $8.32/month. Meanwhile, a 6-month subscription costs $9.99/month, while a monthly subscription costs $12.95/month.
Fortunately, all subscriptions give users access to every ExpressVPN server. An ExpressVPN account can support up to 5 devices. If you connect to your Internet router, you can provide private and secure Internet access to even more devices.
The features of ExpressVPN
With over 160 locations in 94 countries, ExpressVPN offers more options than most other VPN. With servers available on every continent except Antarctica, it's easy to find one that fits your business needs.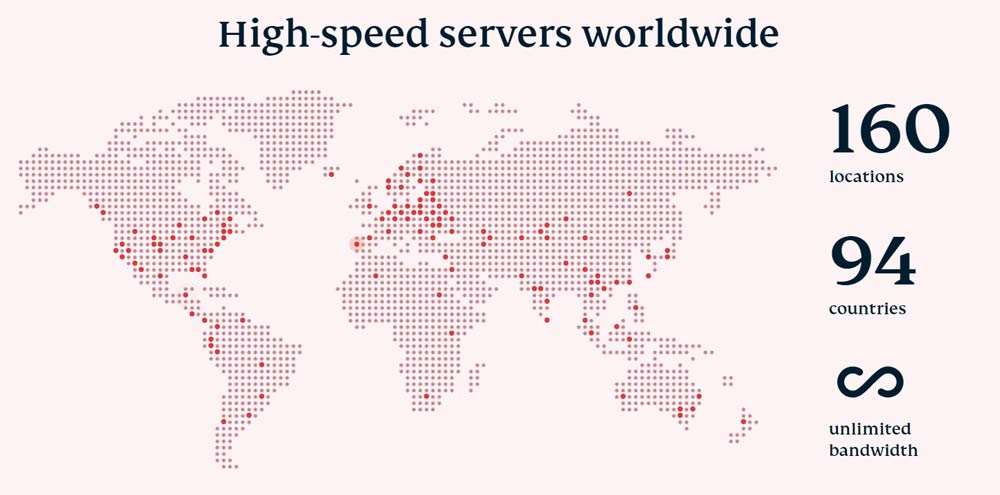 ExpressVPN also ensures that most of its locations have multiple VPN protocols available. Whether OpenVPN UDP/TCP, IPsec, or IKEv2, ExpressVPN users can choose the VPN protocol that best suits their individual needs. Users can also ask the ExpressVPN app to automatically choose the most appropriate VPN protocol.
When using ExpressVPN, one of the favorite features is the Split-tunneling tool. Because using a VPN will definitely slow down Internet speeds, users may not want all apps to access the VPN simultaneously. The Split-tunneling tool allows users to choose which apps or websites will use a VPN, ensuring general browsing or media streaming continues at a faster pace. This feature is not available to most ExpressVPN competitors.
ExpressVPN also offers the best security in class. The use of both 256-bit AES encryption and a 4096-bit authentication key means that virtually no one can track your connection history and Internet usage.
Another advantage of ExpressVPN is using TrustedServer. This service allows ExpressVPN's servers to run only on RAM and means that no identifying data is written on its servers, not even in encrypted form. Without a doubt, ExpressVPN is one of the most secure VPNs out there.
Interface and ease of use
The ExpressVPN app is easy to use and available on most devices, including game consoles and smart TVs. This makes this service different for competitors. As mentioned before, connecting ExpressVPN to an Internet router can also provide seamless VPN access for the entire office space or meeting room.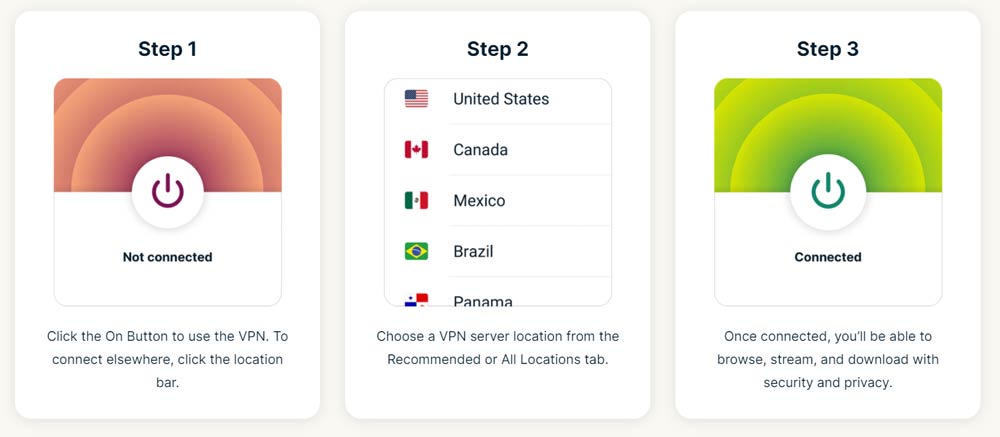 When using the app, changing the server is intuitive, and the app will always tell you when you're connected or lose your VPN connection. If you suddenly lose your connection, the kill switch function ensures your Internet connection is blocked until the secure connection is reset.
The search function makes it easy to find servers, and the app will remember which servers you connect to most often (this recorded data does not leave your phone).
Support
While often ignored by developers and users, having a good support system is essential for any VPN. Thankfully, ExpressVPN offers both quality articles, which raise many of the issues customers may face, as well as a positive and useful 24/7 live chat feature.
ExpressVPN's articles outline how to do exactly what you want – get straight to the point and there's no clutter at all. However, if the problem persists, ExpressVPN live chat support is a reliable source that should be taken full advantage of. The answers usually come within minutes from friendly and knowledgeable consultants.
Conclusion
ExpressVPN is a no.1 VPN option: Top security, a wide range of the best server options in layering, and Split-tunnelling features. If you need a comprehensive VPN solution, ExpressVPN is a great choice (the high cost of this option is totally worth it).
However, if cost is a problem, then there are plenty of other quality VPN solutions available that will suit the needs of small and medium-sized businesses.
Advantage
Can be used on multiple devices
Have advanced features like Split tunnelling
VPNs available in over 94 countries
Risk-free 30-day money-back guarantee
Disadvantage
Cost more expensive than most competitors